Download Calendarize it! for WordPress
Download Calendarize it! for WordPress
---
Calendarize it! was originally created without support for WPBakery Page Builder (formerly Visual Composer). Please notice that you do not need WPBakery Page Builder to use Calendarize it!, but if you have WPBakery Page Builder you can take advantage of the built-in compatibility with this plugin and build your own templates using the popular drag and drop page builder.
We recommend you to visit our demo site Calendarize.it and check out the many features.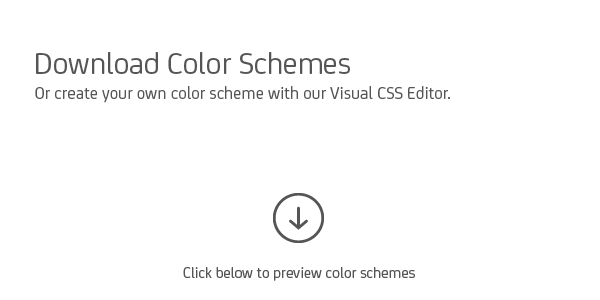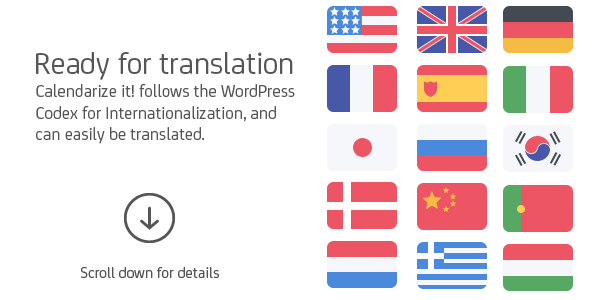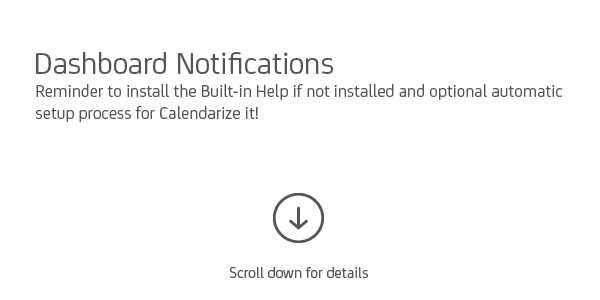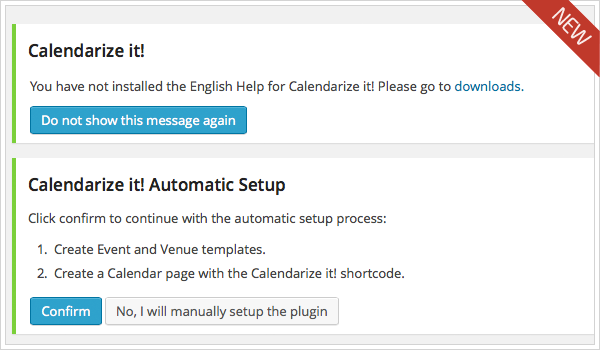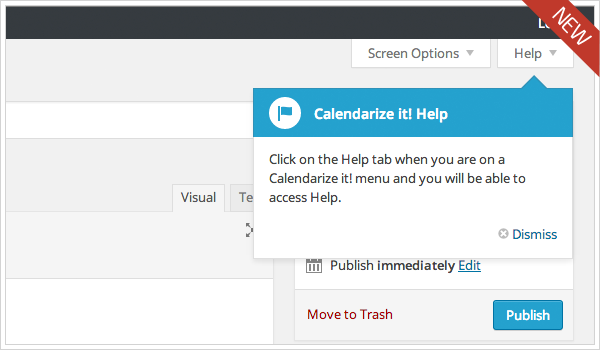 Translate Calendarize it! using Easy Translation Manager or WPML
Calendarize it! for WordPress comply with the Codex for internationalization. This is a process of making an application ready for translation. In WordPress this means making strings which should be translated in a special way.
If you have our Easy Translation Manager for WordPress you can easily translate Calendarize it! for WordPress.
The following language versions are included with the plugin:
English
French
Spanish
Italian
Russian
Chinese
Changelog
Version 4.6.5.83180 – April 11, 2018
Bug Fixed: When turning on the option to force https on all add-on resources in the Troubleshooting tab, also force apply it to tooltip Ajax URL. Some sites are inconsistent in the protocol value returned by site_url().
Bug Fixed: When a Custom Taxonomy contains a hyphen, the Taxonomy Filter (drop-down) for that taxonomy is not rendered
Update: Deleted id attribute from nounce class (meta boxes) to avoid duplicates
Update: Fixed nounces in the meta box class
Version 4.6.4.83037 – March 7, 2018
Compatibility Fix: Month View fix for Safari
Compatibility Fix: When using Bridge Theme, the title of the Venue page shows the title of the page used as template instead of the Venue term name
Update: Depreciated function create_function
Update: CSS fix for Event Details Page Top Image width
Update: Added new icons used for the Event Tickets WooCommerce Attendees Summary
Update: Tooltipster Javascript library updated to version 4.2.6
Bug Fixed: iCal file is not correctly handling daylight savings
Bug Fixed: Navigation not working properly (Previous Month, Next Month)
Bug Fixed: Mobile View not rendering correctly in websites using RTL
New Feature: Added feature to "Show Excerpt" in Tooltip section (Options > Calendarize Shortcode tab)
Version 4.6.3.82849 – February 8, 2018
Bug Fixed: When using Spanish date format j de F de Y, French time format G h i min or German time format G:i Uhr the backslashes are removed from the Start/End/Date/Time element in the layout builder.
Version 4.6.2.82733 – January 19, 2018
Bug Fixed: Changed the default priority of register_taxonomies. The Taxonomy Filter and Taxonomies in Community Events form was broken on some websites.
Version 4.6.2.82717 – January 18, 2018
Bug Fixed: Conflict with WooCommerce checkout process when using WooCommerce Stripe plugin
Bug Fixed: Replaced commas in the Chinese .po translation, so that day names and month names are properly parsed (generate new .mo file)
Update: CSS Styling for Date Picker (compatibility with some themes)
Version 4.6.1.82681 – January 8, 2018
Bug Fixed: A quick fix for missing function (PHP 7 compatibility)
Version 4.6.0.82674 – January 3, 2017
Bug Fixed: When there are large sets of recurring events on a website the iCal feed may display empty on some sites.
Bug Fixed: When timezone setting is UTC+0, UTC time in iCal file is not correctly defined.
Version 4.5.9.82496 – December 12, 2017
Bug Fixed: The date attribute with the "today" value didn't work in all templates for the Accordion Upcoming Events and Upcoming Events Widget shortcodes.
Version 4.5.8.82478 – December 8, 2017
New Feature: Added "today" value to the date attribute allowing to only show events from the current day. This works for Upcoming Events Widget and Accordion Upcoming Events Widget
Bug Fixed: Multiple DOM PHP warnings when using Template integration Version A
Update: Hide divs for Event Ticket Box element in WPBakery Page Builder
Update: Prioritize Troubleshooting tab to be the last tab in Options panel
Version 4.5.7.82238 – November 24, 2017
Update: CSS adjustments for French translation
Update: Added DTSTAMP to iCal file (this should help with some websites experiencing duplicate events when updating Google Calendar events)
New Feature: Added PHP version to the Options > Troubleshooting tab.
Version 4.5.6.82100 – November 13, 2017
Update: Replaced old recurr library with new version (Requires minimum PHP version 5.6).
Update: Rename the current recurr library (will keep it for a few versions before we remove it)
Bug Fixed: One some specific websites, recurring dates are not calculated correctly (updated recurr library)
Bug Fixed: PHP warning when including a non-existing theme compatibility file
Version 4.5.5.81951 – October 23, 2017
Bug Fixed: Event List Start date doesn't change when changing WordPress language
Bug Fixed: PHP warning in Accordion Upcoming Events when PHP warnings are enable
Update: Changed Calendarize it! Visual Composer colors to match the new update for WPBakery Page Builder (former Visual Composer)
Update: CSS fixes for Calendarize it! preloaded animation
New Feature: Added tax_and_filtering parameter to WPBakery Page Builder Upcoming Events and Accordion Upcoming element
New Feature: Back to referer custom button. Added option for a default value for Back to referer button
Version 4.5.4.81556 – September 21, 2017
Update: Added a test for allow_url_fopen which is required by External Event Sources add-on to fetch events.
Bug Fixed: If the number of users on the website exceed 2,000, author drop down is not fully rendered to avoid the widget admin page from crashing (Was added because a customer with 15,000+ users the widget page in wp-admin crashed due to the drop down rendering all authors).
Bug Fixed: When using the Accordion Upcoming Date Tilt template, the image is using the full size image, when it should be a thumbnail size image, defined by the Thumbnail size in WordPress Media Settings.
Update: The Show All label in the Calendar filter was not localized
Update: Added filter rh_get_users_for_uew_dropdown to allow a third party to specify a list of users to show in the new Widget Author field.
Update: Added filter rhc_media_size_options to allow inserting add-on Media Settings
New Feature: Added Media Settings for the Accordion Upcoming Widget (Date Tilt template)
New Feature: Added attribute tax_and_filtering="1" to shortcode rhc_static_upcoming_events (Accordion Upcoming Events) so that multiple selected terms will show events with ALL terms rather than any term.
New Feature: Added Troubleshooting option to skip loading rhc_gmap3.js Javascript
Version 4.5.3.81203 – August 22, 2017
Update: CSS adjustments to height of navigation buttons and Taxonomy Filter add-on drop down filters.
Update: The date/time picker in wp-admin reads the Calendar First Day from Options > Calendarize Shortcode tab.
Update: Minify CSS
Version 4.5.2.80997 – August 4, 2017
New Feature: Added support for inserting the Ratings & Reviews Box with Visual Composer and manually as shortcode. Please notice that the shortcode must be inserted on an Event Page or Event Template. It will not work properly in any other page (that doesn't contain an event). [rhc_rar]
New Feature: Added new template to Upcoming Events Widget (widget_upcoming_events_agenda_b_end.php). Includes END time.
Version 4.5.1.80926 – July 28, 2017
Bug Fixed: Minified JS missing rrule
Bug Fixed: When tooltip on hover is enabled if an event is set to link to a page, it should not open the page on hover
Bug Fixed: When using the Upcoming Events Widget, in the widget interface, using server mode and days past argument, the widget does not properly set the calendar date in the past
Bug Fixed: Featured Image outputs PHP warnings in single event page
Bug Fixed: Under certain conditions, WordPress do_shortcode_tag function will pass a string instead of an array to rhc shortcodes, which outputs PHP warnings
Update: Added local_tz argument to rhc_post_info shortcode, when using it directly to convert start and end date times to browser local timezone. It also converts the Upcoming Event dates
Update: Spanish .po and .mo files updated
Update: Added support for using Taxonomy Filter with Accordion Upcoming Events Widget
Compatibility Fix: The plugin WP JV Post Reading Groups replaces Events with posts in any Calendar view
New Feature: Added support for using Taxonomy Filter add-on with Events Year View add-on.
New Feature: Added support for choosing image source for Upcoming Events Widget in Options > Media Settings
Version 4.5.0.80518 – June 21, 2017
Improvements: CSS improvements to Calendarize it! Month View print option
Version 4.4.9.80173 – June 2, 2017
Bug Fixed: File Caching not working properly. Cached responses were not stored in the right path
Version 4.4.8.80047 – May 29, 2017
Update: CSS adjustment Taxonomy Filter (drop downs)
Update: When selecting a specific Venue in wp-admin only show reference events in the same venue (specific for Timetable add-on for Calendarize it!)
Compatibility Fix: WordPress Twenty Seventeen theme CSS adjustment for font color) in FLAT UI Calendar Widget.
Bug Fixed: When using show reference events in the wp-admin is active, sometimes it breaks showing any events in the wp-admin.
Bug Fixed: When using show reference events in wp-admin, if it is a custom post type, it should show reference events from that specific post type instead.
Version 4.4.7.79913 – May 25, 2017
Update: Pass the shortcode attributes to rhc_json_feed filter, so that the filter have access to all the shortcode attributes
Update: Modified Template Version B under Options > Template Settings, so that add-ons using the Custom Post Types can use the rhc template procedures
For full Change log please visit our website
created by RightHere
last update 2018-04-14T06:29:02+10:00