Download WP Crawler – Crawl website SEO keywords, Links, Images & Content
Download WP Crawler – Crawl website SEO keywords, Links, Images & Content
---
WP Crawler – Crawl website SEO keywords, Links, Images & Content
It's a crawler/bot/spider application, which crawls the specified URL, and creates the table of contents with the findings. The findings include:
Generator
The version of the WordPress that the site is running.
WordPress Theme
All the information about the theme: name, description, author, etc.
Links
All the internal and external links on the page.
Images
All the images on the page, with the actual image and the URL to it.
Post Content
The entire content of the post/page is retrieved and displayed using the style of your active theme.
Post Content as Plain Text
The content with the tags removed. That's how Google and other search spiders see your page.
Top 25 Keywords
The software analyses the page SEO to identify what the page is all about, and displays the top 25 keywords identified.
Here's the sample output (only the Generator and WordPress Theme are shown):
Using the Plugin
The plugin adds the spider icon to the WordPress Visual Editor, which inserts the shortcode with the URL to crawl: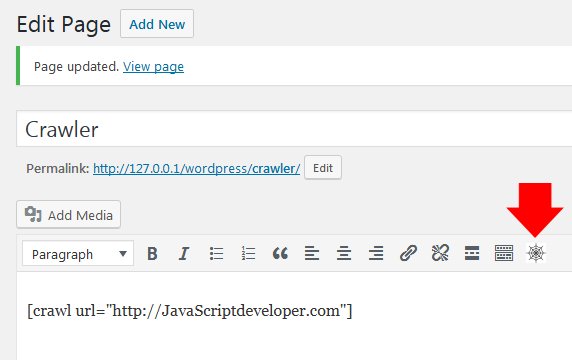 Another way to use the plugin is to provide the crawl form on a page:

created by PluginologySpace
last update 2018-04-18T00:23:52+10:00